Apple fans probably spend 11 months waiting for the next iPhone. Having spent the first month of a new iPhone release being very excited and probably a little disappointed to as to what Apple have released. To be fair, in order to sum up the new iPhone 5, it is Thinner. Lighter. Faster and Simpler! Boom!With the new iPhone incorporating all the improvements and refinements people have been demanding over the past year, it is truly fabulous however there will always be a few disappointed users…
Despite this, the real vote is when people dig into their wallet in order to buy the new iPhone.The iPhone 5's new design is lighter and yet leaves room for a larger display and LTE wireless, all while increasing battery life. In nearly every respect, this is an upgrade over the 4S that came before, though it arrives almost a year later than many had hoped.
Hardware
Apple introduced the iPhone 5 to the world by elevating it from a hidden pylon, rising from the floor and literally sitting on a pedestal for the world to admire while precisely focused lights made the thing gleam like a jewel.
The collection of square edges and raw materials was a huge contrast to everything else Apple is producing and, every other mobile device on the market. Apple have no reason (and haven't) to compromise the beautiful and unique design of their iPhone 5.
Visually, it is relatively the same to the iPhone 4S but the biggest change is not a visual one. Pick up the iPhone 5 and you're immediately struck by the reduction in weight. At 112 grams it's 20 percent lighter than the 4S. This indeed has a big impact, so much so that it's the lightness, not the bigger display or the thinness, that nearly everybody praises when first getting a chance to hold the iPhone 5 in their paws.
iPhone 5 vs. iPhone 4S
The size difference is relatively difficult to tell as they are the same width although obviously the iPhone 5 is slightly longer and thinner. The iPhone 5 measures 4.87 x 2.31 x 0.3 inches (124 x 59 x 7.6mm), making it about a 1cm taller than before. The extra room happens outside of your hand hold so you hardly notice it.
The new height makes room for that 4-inch, 1,136 x 640 display. Steve Jobs famously said that the 3.5-inch screen size is the "sweet spot" and, frankly, it was about time Apple added a little more sugar. The new height results in a phone finally be 16:9 with more usable space and better presentation for HD content. Yet, it's still easy to use with one hand as with the iPhone 4S.
That comfort is also helped by the decrease in thickness: 7.6mm, down from 9.3mm on the iPhone 4S. While it isn't the world's thinnest smartphone that Apple seem to think, it is still a rather impressively beautiful device.
No more glass back to break but an all-new aluminum construction extends around the back, which is either anodized black or left raw depending on whether you opt for the darker or lighter of the two offerings. The white phone is bright and clean-looking; the black, dark and slightly eveil looking however it does pick up finger marks more than it's white counterpart. Two slivers of glass punctuate the top and bottom of the back sides. These glossy bands break up the matte uniformity, but help boost antenna performance which is fabulous news to all of us quite frankly.
The antennas still comprise the rim of the device although now thinner. These are the same sort of dynamically reconfiguring antennas used on the 4S but with a lot more success as they don't have the same sort of signal issues.
The face of the device is still fashioned out of glass and while Apple wouldn't confirm whether that front is indeed the sort of primate-proof silica produced by Corning. With the metal back now sitting flush to the chamfered edge of the device, it's now thicker on top than on the bottom.
The elevated glass means your finger doesn't hit any rough edges while the front-facing FaceTime HD camera now sits centrally  directly above the earpiece. The resistance of the home button feels slightly different than that on the 4S which we are hoping means it will be more durable.
The position and design of the other buttons is likewise largely unchanged from the 4S, with the discrete, circular volume up and down buttons on the left just below the (slightly thinner) toggle switch while the headphone jack now moves to the bottom. This is just like the iPod so probably a good decision.
The phone's speakers with 26 holes, are also positioned on the bottom on either side of the new Lightning connector.
Battery life & Performance
Twice as fast? Twice the graphics performance? Thinner AND better battery life? Are you kidding? Nope! The iPhone 5 over-delivers on all those promises. Tests indicate that the new phone is more than twice as fast and your apps will load noticeably quicker, HDR images are processed in half the time and tasks like video rendering in iMovie are equally rapid.
Web pages load very quickly, snapping into view as fast as the data is available.
So what kind of battery life can you expect? Speed is useless if it only lasts a few hours a day but, shockingly, the iPhone 5 copes incredibly well. In a day of heavy usage with LTE, GPS and WiFi all enabled, we managed over 14 hours before the phone went black!
When it comes to wireless performance, the iPhone 5 didn't let us down. Overall, the iPhone 5 did an excellent job at finding and keeping signals, and call quality is pretty good. This is pretty huge because iPhones in the past have been badly let down by signal challenges.
Whats inside
The new A6 processor, a chip that Apple wasn't too keen to describe other than it being "twice as fast" as the last-gen A5 and "22 percent smaller." However, Geekbench has identified it as a dual-core 1.05GHz processor with 1GB of RAM.
Apple are clearly not up for playing the core count and gigahertz game, so they're keeping quiet. What is key is that we've left the world where clock speed or core count could be directly correlated with performance across CPU architectures and yet the press continue to push this as the core performance comparison. And with Apple constructing its own, custom SoC for the A6, that's doubly true. Why, the dual-core A5 chip in the iPhone 4S shows as 800MHz, so looking purely at numbers this new phone should only be 25 percent faster, not 50% faster.
Storage hasn't changed with a choice of 16, 32 or 64GB models. Unsurprisingly, storage is not expandable, but that's where iCloud comes into it.
The addition of LTE being the biggest wireless addition. Across the regional variants that will be sold around the world, 700MHz AWS bands for LTE for AT&T in the US are supported, plus Rogers, Bell and Telus in Canada and various carriers in Europe and Asia using bands 1, 3 and 5. Meanwhile, a CDMA version handles Verizon and Sprint LTE in the US plus KDDI in Japan using Bands 1, 3, 5, 13 and 25.
That's a lot of spectrum to cover — and we haven't even broached the GSM/EDGE, UMTS/HSPA+, DC-HSDPA support in the GSM model, nor the CDMA EV-DO Rev. A and Rev. B support in the other.
The choice of CDMA vs. GSM will likely come down to which carrier you're on, and which carrier you'd like to be on. Beyond the availability of bands, an important distinction is the ability to do simultaneous voice and data. None of the iPhone 5 models can handle Voice over LTE, so when doing voice calling the phone falls back to either GSM or CDMA, and CDMA doesn't support simultaneous voice and data.
On top of all that is an expanded selection of WiFi connectivity options. The iPhone 5 adds 802.11a support to complete the set of a/b/g/n compatibility. That connectivity is now dual-band as well, so you can step up out of the crowded 2.4GHz into the clear air at 5GHz. Bluetooth 4.0, GPS and GLONASS support all return.
Lightning
For nearly 10 years the 30-pin Dock connector has been on all devices and accessories however since iPods started getting thinner we all knew its days were numbered. Apple has finally decided it was time for the Dock connector to go, but is the Lightning really the best way forward?
The Lightning connector is significantly easier to connect. It slots in nicely and does so regardless of plugging in right-side-up or upside-down. It's also small, seems infinitely more durable than its flimsy-feeling elder and even stronger than micro-USB alternatives.
But Lightning comes up short in a number of important areas. It is, unfortunately  incompatible with the roughly 355 million billion iPhone and iPod accessories currently on the market. And while this should be fixed via a $30 adapter, it will never be the best solution. It won't support iPod Out, the specification used in some cars (most notably BMW and Mini) to enable in-dash control of an iPod or iPhone.
Another challenge is the speed of this new connector. Lightning's name comes as a play on the Thunderbolt connector, yet Lightning has, at least for now, no relation to Thunderbolt at all. It is surprising that there is a speed difference between the two phones as the implementation that comes with the iPhone 5 is based on USB 2.0, meaning that theoretical maximum data transfer rates are no faster than what came before.
Tests carried out implied a 20% speed difference but is this the cable or this the faster A6 processor at work?
New 4 Inch Display
The iPhone 5 boasts a 4-inch display that provides a half-inch of additional diagonal extent compared to its predecessors. I don't think it makes a huge difference but it does make it more competitive with the other phones in the market without being silly big.
The iPhone 4S already has one of the best displays on the market with regard to things like pixel density, brightness and contrast, and the iPhone 5 takes it up another level. Not only is there an additional 176 rows of pixels but the quality is even better.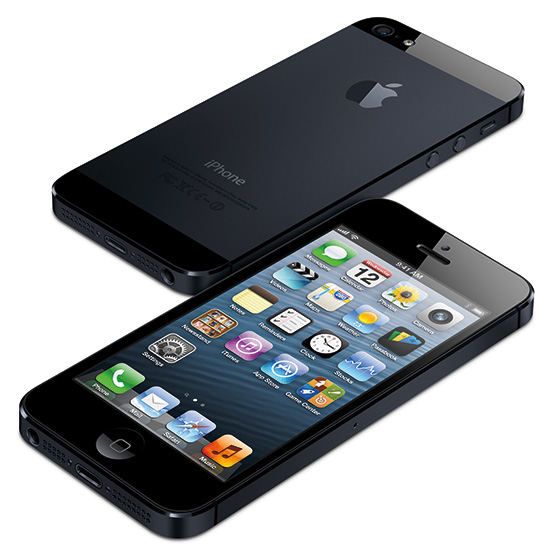 Displaying imagery is much more chromatically neutral than before. The phone also moves up to full sRGB coverage, meaning it can accurately represent every color provided by that spectrum, a claim to fame few smartphones can match.
Apple also promises fewer layers sandwiched between the subpixels and the surface of the glass, the idea being greater contrast when you're outside.
Software
The iPhone ships with Apple's latest iOS 6 mobile operating system. The new Maps app  will have the biggest impact on most users, (especially those living in zone where the maps seems to have been missed off) and in general the Maps were beautiful, fast and smooth.
However, the maps are not as comprehensive as Google's offerings on Android. It also lacks the detailed layering that you can apply in Google Maps and Google Navigation, showing you whatever you want to see. Maps will list some important Points of interest but you will need an app if you require a lot more detail. Finally, while Maps does appear to show traffic, there was no traffic jam warning which is kinda the whole point.
Passbook is Apple's virtual wallet, providing the ability for companies to write custom apps that will slot in here and provide access to things like movie tickets and value cards. However, with insufficient players onboard, this is one for the future rather than right here, right now. Given Apple's ability to blow us out the water, i recommend watching this space.
A welcome addition is the new Shared Photo Streams feature. You can select a few pictures from your roll, and share it with one or more friends. New photos added to the stream popped up in about half a minute so it is a pretty decent way to share photo's with friends.
In general, iOS 6 has seen a few nice little additions where needed but this is no major leap forward that was probably needed. iCloud integration is tighter as you will expect, Safari is better and the overall experience and speed is more polished.
Cameras
The iSight camera here is basically unchanged from the 4S. The overall mechanism has been made smaller to fit within the tight confines of the iPhone 5, and the protective bit of glass on the outside has been replaced with a 6mm disc of crystal sapphire for durability.
So, that means we have an 8-megapixel, backside-illuminated sensor shooting through a five-element, f/2.4 lens. And, with the bigger screen, we now have a larger shutter release button, which is slightly easier to tap by big thumbs.
As camera phones go, the iPhone 5's Image quality is still among the best out there.  What has improved, though, is the speed. You take a flurry of rapid pictures and the iPhone 5 will keep up. This is on par with the Galaxy Nexus, which also has a ridiculously quick shooter.
So, while the camera on the back is minimally improved, the one on the front is a big step forward. Replacing the VGA FaceTime camera is a 1.2-megapixel FaceTime HD unit capable of capturing 720p video. Resolution is obviously massively increased, but so too is overall image quality, with far more accurate colour reproduction.
Panorama mode has been introduced into iO6, where you can tap one button and just sweep the phone around to create a massive image. Resulting files are something like 11,000 x 2,500, with the exact resolution varying based on how smoothly you panned from left to right. If you wander up or down the display will warn you to keep in line, and you'll want to, as every time you stray you're effectively cropping the resulting image. so this will probably take a lot of trial and error as well as a tri-pod..
Video capture remains the same on the rear-facing camera — 1080p maximum and offering bright contrast and colors plus the same digital image stabilization that we saw before, which results in reasonably smooth shots.
Wrap-up
The iPhone 5 is a significant improvement over the iPhone 4S in nearly every aspect. However the new iOS6 is a bit of a disappointment  At least, as it is software, it can be upgraded and doesn't require a new bit of hardware to be launched in 12 months time.
Still, the iPhone 5 absolutely shines and is certainly worth the upgrade in our opinion. As Apple bangs on, this is without a doubt the best iPhone yet!